welcome
_________________________________________________________
Since its inception in 1996, the vision of the Fine Arts Connection of Thomaston has been to create an organization dedicated to promoting the varied expressions of creativity in the realm of fine arts. One focus of this vision is to expose adults and children alike to the many diverse forms of art that exist in and around Thomaston, CT such as theater, music, dance, writing, painting, photography and many more.
It is recognized that the arts serve to assist a person in experiencing a greater satisfaction with life, either as a member of an audience or as a participant. The audience can listen to or observe and absorb what the artist has presented, while the participant can express his or her inner soul through the music, camera eye, dance, or canvas. No matter how one experiences the arts, experiencing them is paramount to one's enjoyment of life, for life, in itself, is art.
___________________________________________________________
The Fine Arts Connection of Thomaston and the Thomaston Historical Museum will be featuring an exhibit called ART and ARTIFACTS, on Sunday, September 17th from 11am-3pm at 158 Main Street Thomaston. There will be two Open Houses in one location, in conjunction with the CT State Fireman's Convention and Parade. Residents and visitors are invited to explore these two gems in Thomaston.
The Crescent is a Gallery filled with revolving artworks by FACT's Ten-2-One Artists. These artists paint and create together every Thursday from 10am-1pm. This picturesque space has a history to its name. In April of 1881, the Crescent Hose Company No.2 housed this firehouse. The number 2 is chiseled in granite outside the door. Inside the Gallery there is a Venetian tower which was functionally important, back in the day, to dry the canvas firehoses. Come and view the inside of the tower with the canvas firehoses and enjoy artistic canvases which fill the walls. This special site is listed in the National Register of Historic Places.
The Thomaston Historical Museum is upstairs on the 6th floor, (which is a short elevator ride away). Take a walk through time and enjoy all the memorabilia. This significant collection is quite impressive and has artifacts to delight your historical appetite that feature antique Seth Thomas clocks in addition to many photographs, period clothing, furniture and exhibits from the time of Thomaston's founding in 1875.
Both venues will include a display to pay tribute to our honorable firefighters. Celebrate the day and the Art and Artifacts with us in Thomaston.
For information about the Thomaston Historical Museum please see: https://www.facebook.com/groups/1302914856989919/?ref=share_group_link
For information about the Ten-2-One Artists:
Facebook.com/FineArtsConnection
___________________________________________________________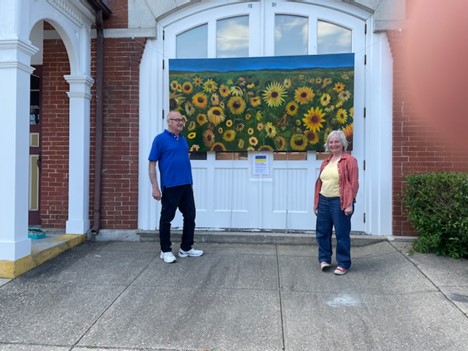 The Ten-2-One Artists and some passer-byes have painted these sunflowers.
In fact, artists across the world have been painting sunflowers to show solidarity for Ukraine. According to a 1993 Encyclopedia of Ukraine, in the context of war, sunflowers signify that Russia will not crush Ukraine's spirit. This public art piece was created to journey forward to bring awareness.
The Artists of Fine Arts Connection of Thomaston hope that a business, organization, or person would be interested and willing to publicly display this tribute and coordinate donations to help the people of Ukraine.
For more information, visit the Crescent Gallery any Thursday from 10 am to 1 pm and meet the artists.
Or visit online: www.ten-2-oneartists.com or www.facebook.com/CrescentGallery
___________________________________________________________
Photo of the Ten-2-One Artists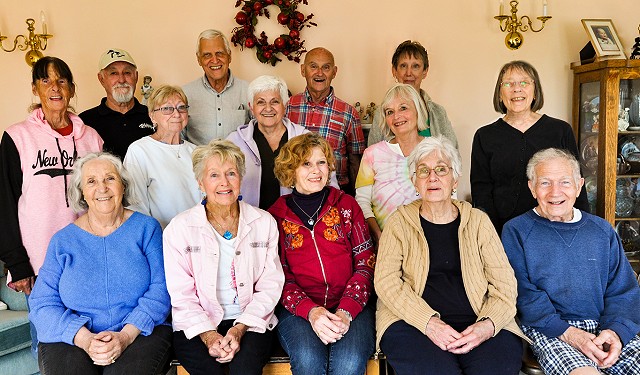 Left to right – front row (seated): Ann Walsh, Sharon H. Martin, Deborah Apostolico, Carol Kunschaft, Robert W. McEvoy
Middle row: Suzanne Serreti, Susan Coppola, Gisele Pereira, Deborah Apostolico, Pat Piscopo, Patty MacIver
Back row: David W. Jean, Bill Lutkus, Bob Brophy, Holly Zemak
_____________________________________________________________
Our Facebook links are:
Ten-2-One Artists