welcome
Since its inception in 1996, the vision of the Fine Arts Connection of Thomaston has been to create an organization dedicated to promoting the varied expressions of creativity in the realm of fine arts. One focus of this vision is to expose adults and children alike to the many diverse forms of art that exist in and around Thomaston, CT such as theater, music, dance, writing, painting, photography and many more.
It is recognized that the arts serve to assist a person in experiencing a greater satisfaction with life, either as a member of an audience or as a participant. The audience can listen to or observe and absorb what the artist has presented, while the participant can express his or her inner soul through the music, camera eye, dance, or canvas. No matter how one experiences the arts, experiencing them is paramount to one's enjoyment of life, for life, in itself, is art.
_____________________________________________________________
Thomaston Savings Bank Foundation comes through again!
We are extremely greatful to the Thomaston Savings Bank Foundation who have again partially funded the Thomaston Summer Concert Series 2016. With their financial support and yours we can provide another 9 weeks of free live music!
Thank you to all of our fellow music lovers who came out to see our artists and performers for our 2016 Summer Concert series.
Thomaston Savings Bank Foundation has agreed to fund our two winter concerts in January and March of 2017. Watch for upcoming announcements once we find the dates and performers to fill these two dates.
____________________________________________________________
Ten-2-One Artists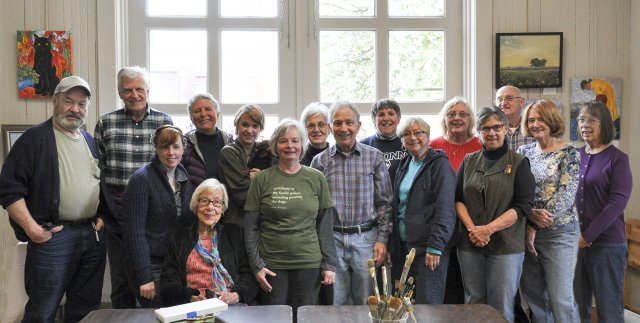 (left to right):
Don Clark, Bill Lutkus, Kate Luurtsema, Molly Barnes, Emma Byrne, Ash Royer, Pat Piscopo, Carol Kunschaft, Robert McEvoy, Fredricka Schwanka, Susan Coppola, Carmina Ayazides, Judi Kontout, Bob Brophy, Nancy Fischer, Patty MacIver (not present for the photo: Gloria Abbott, Raymond Cable, Cassandra Guidess, David Jean, Leo Raia, David Verdosci, Kimberly Weston)
Composite Photo – Credit: Patty MacIver
_____________________________________________________________
Our Facebook links are:
Ten-2-One Artists
Crescent Gallery
_____________________________________________________________